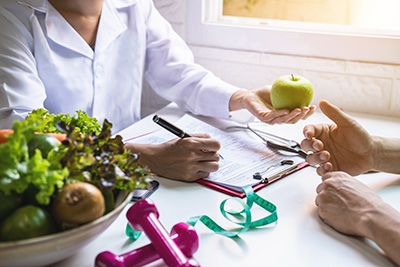 ---
The Science Behind Our Medical Weight Loss Programs: How They Work and Why They're Effective
If you're on a journey to lose weight and achieve a healthier lifestyle, you've probably encountered countless diets and exercise programs promising quick results. At PrimeHealthMD, we take a different approach. Our medical weight loss programs are designed to provide sustainable, long-term solutions backed by science.
Weight loss is never easy, especially when you embark on the journey alone. So, what makes partnering with a medical weight loss physician so successful? Let's discuss our programs at PrimeHealthMD in Georgia and what makes them so effective.
Weight Loss Programs, Georgia
Taking a completely tailored approach to weight loss is just one aspect of our weight loss clinic that sets us apart. At PrimeHealthMD, we understand that each person's weight loss journey is unique, and there is no one-size-fits-all solution. We emphasize a holistic approach that considers physical activity, nutrition, lifestyle, and behavioral changes.
How Do Our Weight Loss Programs Work?
Our medical weight loss programs incorporate the latest scientific research to optimize results. In addition to the physical benefits, our weight loss programs are designed to improve mental well-being and overall health. In order to provide a custom program specific to your health and body type, we will first take a deeper dive into your health by conducting the following:
Screening for obesity and metabolic syndrome (adults & adolescents age 12-18)
Screening for high blood pressure
Screening for Type 2 diabetes
Cholesterol screening
Screening for hormone imbalances
Nutritional Assessment
After we have a baseline of your unique case, one of our physicians will create a weight loss program just for you. We will guide you through every step of your weight loss journey until you reach your goals. But we don't stop there. Once you do reach your weight and health goals, you will then enter our maintenance program, where you will continue with monthly check-ins and monitoring.
Why Are They Effective?
At PrimeHealthMD, we understand that weight conditions can have various underlying causes beyond diet and exercise alone. That's why we take a comprehensive approach by conducting a thorough medical assessment to identify any contributing factors. We delve into various aspects, including hormonal imbalances, genetic predispositions, medications, and medical conditions that may impact weight management. By examining these factors, we gain valuable insights into each individual's unique circumstances.
Our team of medical professionals works closely with you to address any underlying issues hindering your weight loss progress. This holistic approach ensures that we not only focus on the symptoms but also uncover and address the root causes of your weight condition, setting the stage for long-term success.
Another advantage we have at PrimeHealthMD that makes our programs so effective is we utilize advanced Remote Patient Monitoring (RPM) devices that offer valuable insights into your metabolic data. By harnessing the power of RPM, we can establish and maintain a healthy lifestyle tailored to your specific needs. These devices provide crucial information that guides us in developing effective eating, exercise, and behavioral strategies to support successful weight loss. Our focus is not just on shedding pounds but on equipping you with the tools and knowledge to sustain your weight loss journey and keep off the weight for good. With our RPM technology, we ensure that you receive personalized care and ongoing monitoring, empowering you to achieve lasting results in a way that is uniquely tailored to you.
Treating the Root Cause of Your Weight Condition
Additionally, the effectiveness of our medical weight loss programs stems from their evidence-based approach. We treat the root cause by combining tailored exercise routines with personalized nutrition plans to create a synergy that promotes healthy weight loss and long-term weight maintenance.
Your weight loss program may include the following:
Fitness recommendations
Lifestyle changes
Ongoing support
Who Are Our Weight Loss Programs For?
Our medical weight loss programs are designed for anyone who wants to safely and effectively lose weight. Whether you have a few pounds to shed or need to address more significant weight concerns, our programs can be tailored to your needs and goals.
Our weight loss programs are especially beneficial for those who have struggled with unsuccessful dieting attempts or have underlying health conditions related to weight, such as diabetes, high blood pressure, or heart disease. Our medical professionals will closely monitor your progress, adjusting your program as needed to ensure your safety and optimize results.
If you're ready to embark on a transformative journey toward better health and weight management, we invite you to schedule a consultation with our experienced team. Together, we can develop a personalized plan that fits your needs, supports your goals, and sets you up for long-term success. Take the first step today and discover the science behind our medical weight loss programs at PrimeHealthMD.
Whether you reside in Alpharetta, Atlanta, or Dunwoody, Georgia, we have a top weight loss clinic near you! Call (770) 800-3353 today!