Personalized Nutritional Counseling for Weight Loss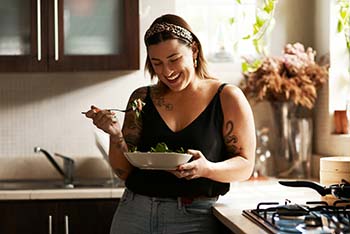 For many, the battle of losing weight is a long, tough journey. It's a common struggle, with 3 out of 5 Americans reporting unwanted weight gain. At PrimeHealthMD, we offer a clinically-based, physician-supervised weight loss programs to help you lose – and keep off – your unwanted pounds.
One of the critical parts of an effective weight loss system is nutrition. But downloading a meal plan or committing to "eat more greens" doesn't give you the personalized, holistic approach that produces long-term results.
This is where it helps to have nutritional counseling along with the support of a highly trained nutritionist and dietician.
SCHEDULE YOUR FREE CONSULTATION
* Please note, we currently can not accept Medicare, Medicaid, Ambetter or CareSource.
Why Should You Have a Nutritionist or Dietician?
Many factors make your nutritional needs unique, such as your:
Health history
Current medical conditions
Current eating habits and lifestyle preferences
Weight loss goals
This is why we create tailored nutritional plans for you instead of a "one size fits all" approach.
So, whether you're…
A new mom longing to lose the baby weight…
Looking to finally shed your "Quarantine 15"...
Wanting to overcome obesity…
A serious athlete who needs the high-powered fuel from sports nutrition…
Our trained and licensed medical providers are here to work one-on-one with you on customized solutions.
Our team is experienced in identifying food-related challenges and how they're impacting your weight loss. We take into account your medical history (including allergies and sensitivities) and help you create nourishing lifelong habits. And because we work with you to create a personalized plan, you're not left feeling hungry and deprived.
What Is Nutritional Counseling Like at PrimeHealthMD?
Our goal is to help you lose weight as quickly and as safely as possible. So, what makes our nutritional counseling different from the other options out there?
First, we go beyond the industry norms of looking at just height and weight. During your initial visit, we perform a comprehensive bariatric physical. This includes:
An electrocardiogram (EKG) to monitor your heart rhythm
A full review of your medical history
A comprehensive blood panel
A complete body fat analysis
Our providers then examine your results and create a plan that's designed for your body and your goals. Your plan will include:
Vitamin-based injections that jumpstart your metabolism, give you an energy lift, lower food cravings, and reduce water retention.
Possible prescription medications, such as mild appetite suppressants.
A starter kit that contains a month's supply of proprietary select supplements.
An exercise plan that's customized to your weight loss goals and preferences.
A tailored nutrition plan, complete with sample menus and recipes.
After your initial meeting, you'll then start the first phase of the program – the weight loss phase.
SCHEDULE YOUR FREE CONSULTATION
* Please note, we currently can not accept Medicare, Medicaid, Ambetter or CareSource.
Phase 1: Losing the Weight
We know how important accountability is during your weight loss journey. During this time, our physicians will check in with you weekly. They'll examine your vitals, administer your vitamin injections, and refill any necessary prescriptions.
To help you stay on track and maximize your weight loss success, our nutritionists and providers will meet one-on-one with you for nutritional counseling. They'll offer you refreshed menus and recipe ideas. The meal plans you'll receive are nutritionally balanced and typically based on a high-protein diet.
Phase 2: Maintaining Your Weight Loss
Many other practices either stop at the weight loss phase or don't offer their patients robust support after they lose the weight. At PrimeHealthMD, we're with you for the long run and want to make sure you keep the weight off.
So, once you reach your weight goal, you'll then shift into the second portion of the program – the Wellness Phase.
During this second phase, we provide tools and resources to help you maintain your weight loss and get the most out of your nutritional counseling. This includes remote patient monitoring, which allows you to continue checking your measurements.
Oftentimes, we may send our patients home with the following supplies to help them track their progress:
Blood pressure cuff
Weight scale
Glucose monitor
And any other tools they may need to monitor their weight and health
We want to make sure you have ongoing access to support, so we'll continue meeting with you during monthly check-ins.
Also, unlike the weight loss portion of the program, the Wellness Phase is a pay-as-you-go service. This allows you to determine how much support you need for ongoing success.
Our Trained and Licensed Medical Providers at PrimeHealthMD Are Here to Help You
At PrimeHealthMD, we understand the unique challenges our patients face when it comes to losing weight and keeping it off. That's why our weight loss program is clinically-based, highly personalized, and full of the support you need. We also accept most insurances.
If you're in the Atlanta, Alpharetta, or Dunwoody area, we invite you to find out if our weight loss program and nutritional counseling are a good fit for you. To do that, please fill out our contact form or call us for a complimentary consultation at (770) 800-3353. We're here to help support you in your weight loss and nutrition goals!