Chronic Fatigue Syndrome Doctors in Atlanta, Alpharetta, and Dunwoody, GA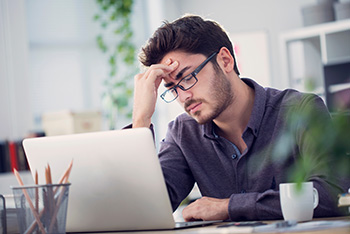 Sure, everyone gets tired. But when the fatigue is so extreme it's controlling your life, you may be dealing with a condition known as Chronic Fatigue Syndrome (CFS).
No matter how much sleep you get, you still wake up feeling drained and exhausted, unable to get out of bed. This dramatically affects your daily life and makes it hard to accomplish basic responsibilities.
At PrimeHealthMD, we understand how debilitating Chronic Fatigue can be. As a leading wellness clinic in Georgia, we strive to uncover the root cause of your chronic fatigue and provide healing functional medicine treatment options to get you back to good health.
If you are located in Atlanta, Alpharetta, or Dunwoody, Georgia, and are dealing with relentless fatigue, it's time to speak with one of our experienced practitioners.
To schedule your FREE consultation, call (770) 800-3353 or contact us online today!
What is Chronic Fatigue Syndrome?
Chronic Fatigue Syndrome (CFS) is a complex condition that is often difficult to diagnose. It is characterized by extreme fatigue lasting longer than six months, and symptoms do not seem to improve even with adequate sleep. With Chronic Fatigue Syndrome, your symptoms may worsen with exercise, making it extremely difficult to get the right amount of movement a healthy body needs.
Many conventional medical doctors do not have enough experience in diagnosing or understanding CFS, making it vital to work with a functional medicine doctor who will address all of the moving parts of this condition.
At PrimeHealthMD, we have successfully helped many Georgia patients recover from Chronic Fatigue Syndrome.
What are symptoms of Chronic Fatigue Syndrome?
Most patients generally complain of extreme exhaustion accompanied by the following additional symptoms.
Fatigue that lasts more than 6 months
Headaches and migraines
Sensitivity to light and sound
Sensitivity to chemicals and smells
Muscle and joint pain or stiffness
Brain fog and difficulty concentrating
Memory problems
Insomnia
Mood swings
Anxiety and depression
Confusion
Forgetfulness
Swollen lymph nodes
Dizziness
Flu-like symptoms
If you are experiencing the above symptoms and have yet to find relief for Chronic Fatigue, let our team of caring professionals help you. To schedule your FREE consultation, call (770) 800-3353 or contact us online today!
What causes Chronic Fatigue Syndrome?
Although many traditional doctors believe the cause of chronic fatigue is unknown, if they even recognize the condition at all, we know that there are underlying factors at play.
At PrimeHealthMD, we find that by addressing the root cause of your symptoms, we can tackle chronic fatigue, and your symptoms will start to fade. Some of these underlying contributing factors may include the following:
Food intolerances
Candida overgrowth
Viral infections such as Epstein Barr
Bacterial infections such as Lyme disease or HPV-6
Parasites
Chronic stress
Adrenal fatigue
Undiagnosed thyroid conditions
Physical or emotional traumas
Mineral deficiencies
Heavy metal toxicity
Mold exposure
Poor diet and lifestyle choices
Diagnosing and Testing for CFS
Traditional doctors often miss or overlook chronic fatigue due to improper testing, or they may tell you it's a normal part of aging, or even worse, all in your head.
We proudly offer state-of-the-art diagnostics and conduct a complete medical exam, ensuring we get to the bottom of your condition. From there, our experienced chronic fatigue specialist will create a tailored treatment plan specific to your needs.
Treatment Options for Chronic Fatigue Syndrome
Our functional medicine approach to treating Chronic Fatigue addresses the whole person.
We utilize groundbreaking treatment options that have proven to improve symptoms of chronic fatigue for our Georgia patients.
Your treatment plan may include any of the following:
Benefits of Functional Medicine Approach for Treatment of CFS
There are treatment options for your chronic fatigue symptoms. At PrimeHealthMD, patients love the benefits of receiving functional medicine to treat their debilitating symptoms and see phenomenal results. We know you will benefit from our functional medicine approach as well.
Treating the root cause
A natural holistic approach for more profound healing
It treats the whole person, from nutrition to stress.
Request Your Consultation Today!
If you have tried everything to get your life back and improve symptoms of chronic fatigue but are struggling, give our team of specialists a call. We have the tools and experience to uncover the root cause of your condition and treat it with therapeutic healing protocols that will boost your energy and make you feel good again.
To schedule your FREE consultation, call (770) 800-3353 or contact us online today!