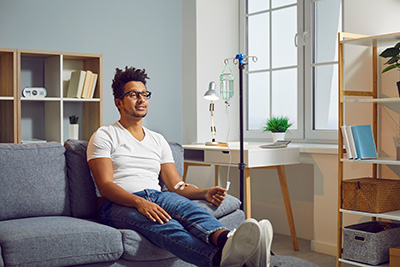 ---
Feeling sick and tired all of the time doesn't have to be a normal feeling. In fact, you shouldn't feel tired all of the time or be fighting to recover from an illness or injury that never seems to improve. So why are you experiencing this? What is the missing link?
We are here to let you in on a little secret that is drastically improving the health of many patients… IV hydration therapy – a game-changer when it comes to replenishing your body's essential fluids and nutrients.
What exactly is IV hydration therapy, and who can benefit from it? We will reveal all of the secrets below and the amazing benefits it offers. So, let's get started on this journey toward increased energy and enhanced recovery!
What is IV Hydration Therapy?
You may be thinking that any type of IV treatment is just the latest fad, but we promise you there are some serious health benefits. IV hydration therapy is a safe and effective treatment that involves delivering fluids, vitamins, minerals, and electrolytes directly into your bloodstream through an intravenous (IV) line. This method ensures optimal absorption and rapid distribution of these vital components throughout your body. By bypassing the digestive system, IV hydration therapy provides immediate relief and rejuvenation. All of this can be done in a simple 30-60 minute relaxing session.
Is this sounding a bit more appealing? Good. Just knowing that energy-boosting power without some "magic" pill does exist could be a game changer for you!
What does IV Hydration treat?
Your body thrives on hydration and getting the proper amount of nutrients. When your body is deprived, naturally, you begin to experience the unpleasant side effects. IV hydration therapy is a versatile treatment that can address various conditions and support your overall well-being. Here are some of the conditions that IV hydration therapy can effectively improve:
Dehydration
Nutritional Deficiencies
Immune compromises
Migraines
Hangovers
Athletic Performance and Recovery
Stress
Acute illness
Chronic illness
Mental fog
Skin conditions
Jet lag
Benefits of IV Hydration Therapy
IV hydration therapy offers a myriad of benefits that can transform your well-being. If you think about it, the number of healthy foods and supplements you would have to take in order to achieve the same effects as IV therapy, there is just no comparison. IV Hydration Therapy is simply the fastest way to replenish your body in order to feel better, with a majority of patients noticing an instant difference in the way they feel after just one treatment.
Here are some key benefits you can expect from this revolutionary treatment:
Rapid rehydration
Increased energy levels
Enhanced recovery
Improved immune function
Hangover relief
Replenishment of nutrients
Increased hydration for beauty and skin health
Promotes faster weight loss
Detoxes the body of toxins
Reduces migraines
Helps clear skin conditions
Convenient and time-saving
Are you a good candidate for IV Hydration Therapy?
If you are a health-conscious individual or you are battling a medical condition in which you have yet to find a solution for feeling better, then IV Hydration Therapy is an excellent option for you. At PrimeHealth MD, no matter your situation, our team of experienced IV therapy physicians will work with you to determine if you are a good candidate for IV Hydration Therapy.
Whether you're an athlete seeking performance optimization, someone recovering from an illness, or simply looking to revitalize your body and boost your overall health, IV hydration therapy can be a game-changer.
If you are looking for a top IV Hydration Treatment Center in Georgia, we have you covered. At PrimeHealthMD, our team of medical professionals is dedicated to providing safe and effective IV hydration therapy tailored to your unique requirements. With our expertise and state-of-the-art facilities, you can experience the incredible benefits of IV Hydration Therapy and take a step towards a healthier, more energized you.
Don't let dehydration or nutrient deficiencies hold you back. Discover the power of IV Hydration Therapy and unlock your full potential. Contact us today to schedule a consultation and embark on your journey toward optimal health and vitality.
Remember, at PrimeHealthMD, we are here to empower you on your path to wellness. Cheers to a hydrated and vibrant life!
Learn More!
To learn more about the profound health benefits of IV Hydration Therapy, call today to speak with a leading IV Therapy specialist in Georgia. Whether you reside in Alpharetta, Atlanta, or Dunwoody, Georgia, we have a top IV Therapy clinic near you! Call (770) 800-3353 today!