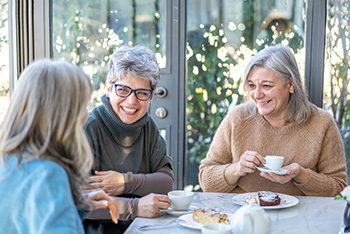 As a woman, you're pretty familiar with hormones. However, as you age, some of your most crucial hormones become out of balance, causing uncomfortable symptoms. Hot flashes, weight gain, and low libido are just a few symptoms of a hormonal imbalance that may be affecting you.
If this sounds familiar, our team at PrimeHealthMD offers an excellent natural solution for women dealing with hormonal imbalances called Bioidentical Hormone Replacement Therapy (BHRT). We have helped many women in the Georgia area overcome the adverse side effects of having a hormonal imbalance.
If you live in the Atlanta, GA, Alpharetta, GA, and Dunwoody, GA area, and are looking for relief from hormone imbalance, call today to speak with one of our hormone specialists!
Call (770) 800-3353 to set up your first consultation today!
What causes hormone imbalances in Women?
Your hormones play a vital role in your overall health. Hormones like Estrogen, Testosterone, Cortisol, Thyroid, Vitamin D, and DHEA move through your bloodstream, acting as messengers communicating to your body to function in a certain way. When something is off with one or more of these hormones, your body does not function properly.
Experiencing hormonal imbalances can be a natural part of life for many women, especially when significant changes occur in your body, such as menstruation, pregnancy, and menopause.
Other factors that may be contributing to your hormonal imbalance include the following:
Medical conditions
Chronic stress
Lifestyle habits
Poor gut health
Environmental toxins
Endocrine gland disruptions
Lack of ovulation during the luteal phase
What are symptoms of hormone imbalances in women?
Nearly 75% of women say they experience symptoms that could be related to a hormonal imbalance. If you are one of them, you understand how uncomfortable these symptoms can be. A hormonal imbalance may cause one or more of the following symptoms:
Hot Flashes
Weight Gain
Fatigue
Vaginal Dryness
Anxiety
Insomnia
Night Sweats
Increased Belly Fat
Low Sex Drive
Mood Swings
Depression
Don't let a hormone imbalance stop you from living an active, vibrant life! At PrimeHealthMD, we provide one of the leading hormone replacement treatments available in Georgia, BHRT. Our patients have experienced remarkable results leaving symptoms of out-of-control hormones behind.
To learn more about hormone replacement therapy, please call (770) 800-3353 to set up your first consultation today!
BHRT for Women
BHRT, or Bioidentical Hormone Replacement Therapy for women, is a groundbreaking treatment that naturally replenishes hormones in women. Bioidentical hormones are hormones derived from soy, yams, and other plants that are almost identical to your human hormones' molecular structure.
This means that when we add these similar hormones to your body, your cells recognize them and utilize them as they would your actual hormones. BHRT is safe and effective because these plant hormones fit perfectly into your hormone receptors as if your body creates them.
We love BHRT because they do not cause the same side effects that synthetic hormone replacement therapy does. BHRT is popular at PrimeHealthMD because the treatment is customized and tailored to your specific needs.
To determine if BHRT is the right treatment for you, our team of physicians will complete a thorough medical exam, including hormone laboratory tests, medical history, and a comprehensive evaluation of your symptoms. After determining which hormones need attention, we will find the most appropriate route of administration for you, including creams, injections, and pellets.
What are the benefits of BHRT for women?
If you are tired of living with wacky hormones, or you have yet to find the correct remedy to bring back balance to your body, BHRT may be the solution for you. The women we treat for hormone replacement love the benefits of BHRT and often experience amazing results. We know you will love the benefits of this all-natural therapy too!
Natural treatment option
Does not cause the same side effects as synthetic hormones
Provide physical and emotional symptom relief
Offer BHRT Pellets for consistent release as well as creams and injections.
Women who choose Bioidentical Hormone Replacement Therapy experience:
Better Sleep
Increased Energy
Higher Libido
Regulated Weight
Improved Memory
Minimized Hot Flashes
Improved mental clarity
Request Your Consultation Today!
Ready to feel good again? Don't wait any longer to get your hormones back in balance. No more hot flashes, mood swings, or fatigue, and you can finally get your weight back under control.
Call today to speak with one of our hormone specialists at one of our three locations - Atlanta, GA, Alpharetta, GA, or Dunwoody, GA. Please call (770) 800-3353 to set up your first consultation today!